15 Frozen Summer Treats
I remember when my kids were little, we would always walk to the corner store and let them pick out their favourite ice cream. Some days they would pick out a fruity popsicle, and other days they would pick out a chocolate sundae cone. Now that they are older, it is a little harder to get them to hold my hand as we skip down the road to the store. They are more willing to make their own fun summer treats, ahh the life of having future bakers in the house. Every week we get together and search Pinterest for fun and easy treats that we can make using the ingredients we have in the house. My kid's asked me "Why don't we make a list of all of our favourites and work down the list every week". That was such a wonderful idea, how come I didn't think of that?!
We have compiled a list of 15 Frozen Summer Treats that feature a few of our favourites to make and some that we have not tried yet, but are planning to in the future. These treats that I have featured are fun for the whole family and we can even let younger kids join in on the fun in making them.
What is your favourite frozen treat?
1. Snickerdoodle Ice Cream | Our Best Bites
Enjoy the cinnamon-sugar taste of cinnamon into a cold, frozen dessert with this snickerdoodle ice cream. You'll need an ice cream maker for this one!
2. Strawberries and Cream Lemonade Pops | Thirty Handmade Days
For a healthier alternative to ice pops, try these 3-ingredient homemade pops! Super simple to make in bulk, and a refreshing treat for all ages.
3. Frozen Hot Chocolate | The Glowing Fridge
Vegan, dairy-free and gluten-free – this simple frozen hot chocolate is a great way to drink hot chocolate on a hot day.
4. Pink Sherbet Punch | My Recipe Magic
This pink sherbet punch is a simple, two-ingredient drink great for parties and special events. It's sweet, pretty to look at, and fruity!
5. Toasted Marshmallow Brownie-Batter No Churn Ice Cream | Cupcakes and Kale Chips
No ice cream maker needed for this delicious chocolate-y s'mores ice cream. There's also a gluten free alternative.
6. Fruit Punch Pudding Pops | Julie's Eats and Treats
Only four ingredients, these pudding pops are flexible, as you can easily choose what flavors you want. Although frozen, they're also not as cold as traditional Popsicles.
7. Layered Neapolitan Milkshakes | Perfectly Sprinkled
I love the tri-color palette neapolitan offers. This gorgeous milkshake combines chocolate, vanilla, and strawberry for a classic and creamy summer drink.
8. Cake Batter Ice Cream Cupcakes | Sprinkle Some Fun
Three rich, flavorful layers make up these ice cream cupcakes. You can mix and match layers and flavors depending on your favorite flavors. What a unique birthday party dessert!
9. Chocolate Chip Cookie Dough Ice Cream Sandwiches | Mel's Kitchen Cafe
These ice cream cookie dough sandwiches aren't simply two baked chocolate chip cookies sandwiching ice cream. Instead, they're layers of egg-less cookie dough we know and love.
10. Fudge Chunk Ice Cream | Briana Thomas
Combine ice cream and chunky and creamy chocolate for this homemade ice cream that will satisfy any sweet tooth. Although the recipe calls for an ice cream maker, there is an alternative recipe if you don't have one!
11. Greek Yogurt Popsicles | Dessert For Two
You'll need a popsicle maker for these frozen treats. They only call for five ingredients, and you can easily make the recipe your own with your favorite fruits.
12. Mini Ice Cream Sandwich Pops | The Girl. Inspired
As an alternative to cake pops for your next event, try these frozen ice cream sandwich pops!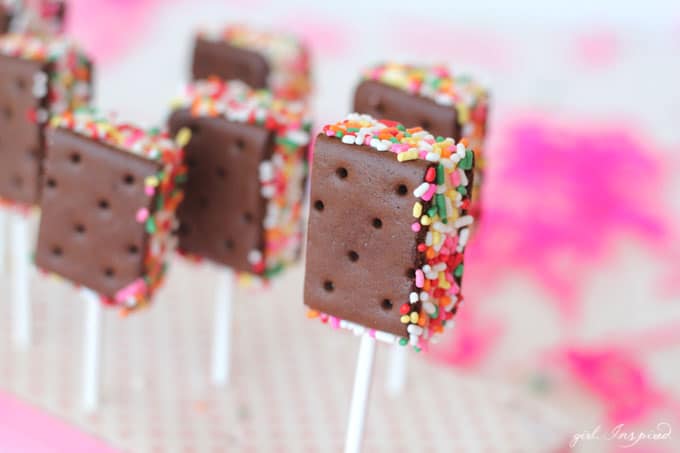 Image credit: The Girl. Inspired
13. Sugar-Free Nutella Iced Coffee Frappe | Sugar-Free Mom
Low carb, sugar-free, and dairy free, this frappe can be as homemade or "store-bought" as you'd like. It's also easy to personalize according to your tastes.
14. Watermelon and Kiwi Pops | Real Food By Dad
Low-calorie, light, and refreshing – these watermelon kiwi ice pops are simple to make for a hot day!
15. Strawberry Shortcake Ice Cream | So Fab Food
Fresh strawberries make up this ice cream that takes about 10 minutes and 5 ingredients to make this ice cream.
I hope you enjoyed our list of 15 Frozen Summer Treats. With the temperature reaching record breaking stats, these are the perfect way to stay cool during the hot summer days. Let us know which one you liked the most below. If you make any of these, let us know by sharing with us on Facebook or Twitter!