Odyssey Theatre brings puppet shows to the park
Lighter than Air floats into Strathcona Park
Odyssey's Theatre Under the Stars partners with Rag & Bone Puppet Theatre to bring entertaining and educational shows to the outdoor stage. To accompany their main show, The Things We Do For Love, there are youth matinees for kids (and kids at heart!).
We catch up with Rag & Bone founder John Nolan to find out about this year's production Lighter than Air, based on George MacDonald's children's fairytale.
Q: Tell us a little about Lighter than Air.
A: The story was written by George MacDonald, a contemporary of Lewis Carroll.
It's a modern fairy tale with a few twists: the wicked Aunt at the Christening, not invited, takes away the baby's gravity. Both kinds of gravity. She's lighter than air, and she doesn't take anything seriously. But then, she finds her passion – swimming. And meets someone who shares that passion – the handsome Prince. And together, they save the Kingdom. The original text is very tongue in cheek. Our script makes it more cheerful and childish.
Q: Who are the different characters we meet in the play?
A: The King, the Queen, the Aunt (who is also a witch, Makemknowit), the Nurse, Professor Humdrum, the Princess and the Prince.
Q: What valuable lessons can we expect to learn from this story?
A: There's more to life than laughs! Compassion, empathy and love are part of what makes us human, and a person who lacks them is very strange indeed.
Q: In addition to coming to the play, are there any other family activities happening at the youth matinee?
A: Well, lots of people come and have a picnic in beautiful Strathcona park! There's a wading pool, and lots of ducks and other wild birds to look at in the river. The fine folks at Odyssey have some mask making craft activities after the performance, too.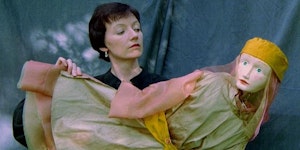 Performances take place in Strathcona Park, August 5 and August 12 at 10am and 1pm. In event of bad weather the location changes to All Saints Anglican Church – 315 Chapel St. Tickets can be purchased here. Tickets cost $8 for children and adults.
The Things We Do For Love takes place from July 23 – August 23, Tuesday through Sunday at 8pm. Tickets range from $10 – $27. Look for special group discounts, picnic and show offers and more!
Tickets Giveaway
The Odyssey Theatre wants to help you have a great summertime by giving one Ottawa Mommy Club reader four tickets (2 adults and 2 children) to Lighter Than Air and two adult tickets to The Things We Do For Love! The winner must call the Odyssey Theatre to reserve the tickets.
This giveaway is open to Ottawa area residents and will end at 11:59 EDT on July 17, 2015.
Good luck to all that enter!
Rules: Open to Ottawa area residents 18 +. The winner must call the Odyssey Theatre to reserve the tickets. You have 48 hours to reply by email once you are notified as the winner. If you don't, we will draw another entry. Prize is non-transferable. No substitution or cash equivalent of prizes is permitted. The selected winner must correctly answer a mathematical question in order to win the prize mentioned above. The Ottawa Mommy Club is not responsible for prize fulfillment and for the delivery/shipment of the prize(s) mentioned above. For our complete set of rules, please click here.
Category: Arts/Entertainment, Attractions, Dads, Family, Giveaways Archived, Grand-Parents, Kids, Living, Moms, Ottawa and Surrounding Area, Ottawa Events, Stuff of Interest